Jiarui Wang (she/her) is a graphic designer from Shanghai. She recently earned her Bachelor of Fine Arts degree at the School of the Art Institute of Chicago. She is currently pursuing her Master of Arts degree at the Royal College of Art.
You can find Jiarui on her social media
@azotejr
, or shoot her an
email
.
Tlön, Uqbar, Orbis Tertius
2019 spring; revisited in 2021 spring
Publication design
6¾ × 10¼ in
40 pages
Inkjet print on epson enhanced matte paper
Hand-bound hardcover
Tlön, Uqbar, Orbis Tertius
is a publication based on Jorge Luis Borges' short fiction of the same name. Told in the first-person narrative, the story focuses on the protagonists' discovery of the mysterious and fictional world of Tlön.
Acting as both art director and designer, I created the layout, typographic construction, photographs, and illustrations as ephemera from the imaginary land of Tlön in Borges' story. This book is my attempt to place myself in that world momentarily, and is the resulting journal and collection of a scholar who helped compile the encyclopedia of Tlön.
⁂ Under the guidance of
Don Pollack
Cy Twombly: The Wisdom of Art
2019 Fall
Publication design

8½ × 8½ inches
60 pages
Laser print on french paper
Saddle-stitch binding

Cy Twombly: The Wisdom of Art
is a publication about Cy Twombly's artwork, with the writings of Roland Barthes. It aims to emulate the airy, loose, and expressive qualities of Twombly's drawing through typography and layout.
⁂ Under the guidance of
Mark Stammers
⁂ This piece is also featured in
Show Don't Tell 2021
, an online exhibition showcasing works by graduating students of SAIC, organized by
SAIC AIGA
.
Continuity & Change: Lu Xun and Emigre
2020 Spring
Booklet design + writing
8½ × 5½ in
10 pages
Risograph print on french paper
Accordion bound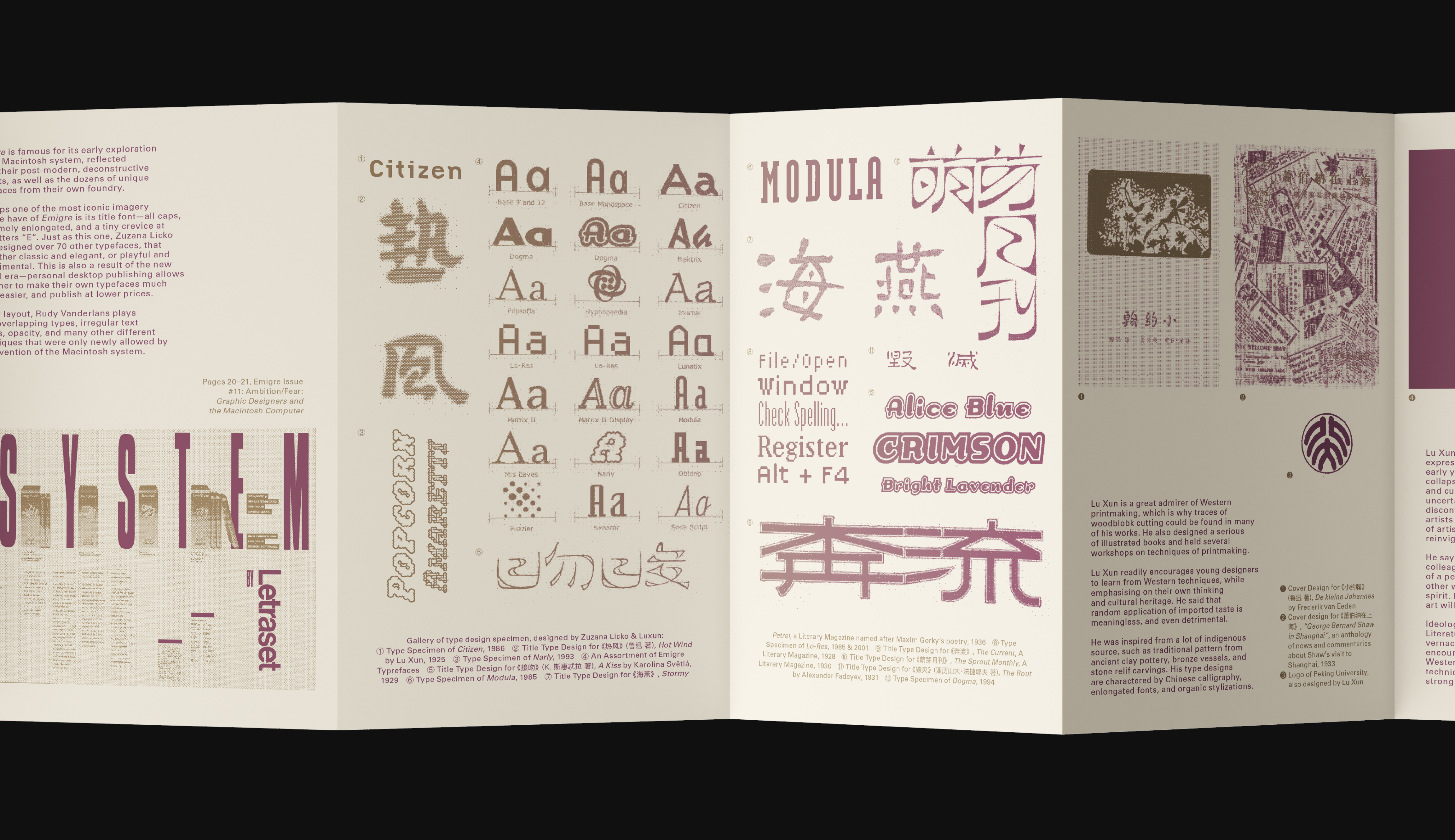 (RCO2−)nMn+: Book of Soap
5 × 5 in, 40 pages
laser print on epson french paper
dos-á-dos binding
Named after the general formula of soap,
(RCO2-)nMn+: Book of Soap
is an artist book about the twofold process of soap production. Binded with dos-á-dos method, the book explains how soap is made on an industrial scale and at home by hand.
⁂ Under the guidance of Daniel Morgenthaler